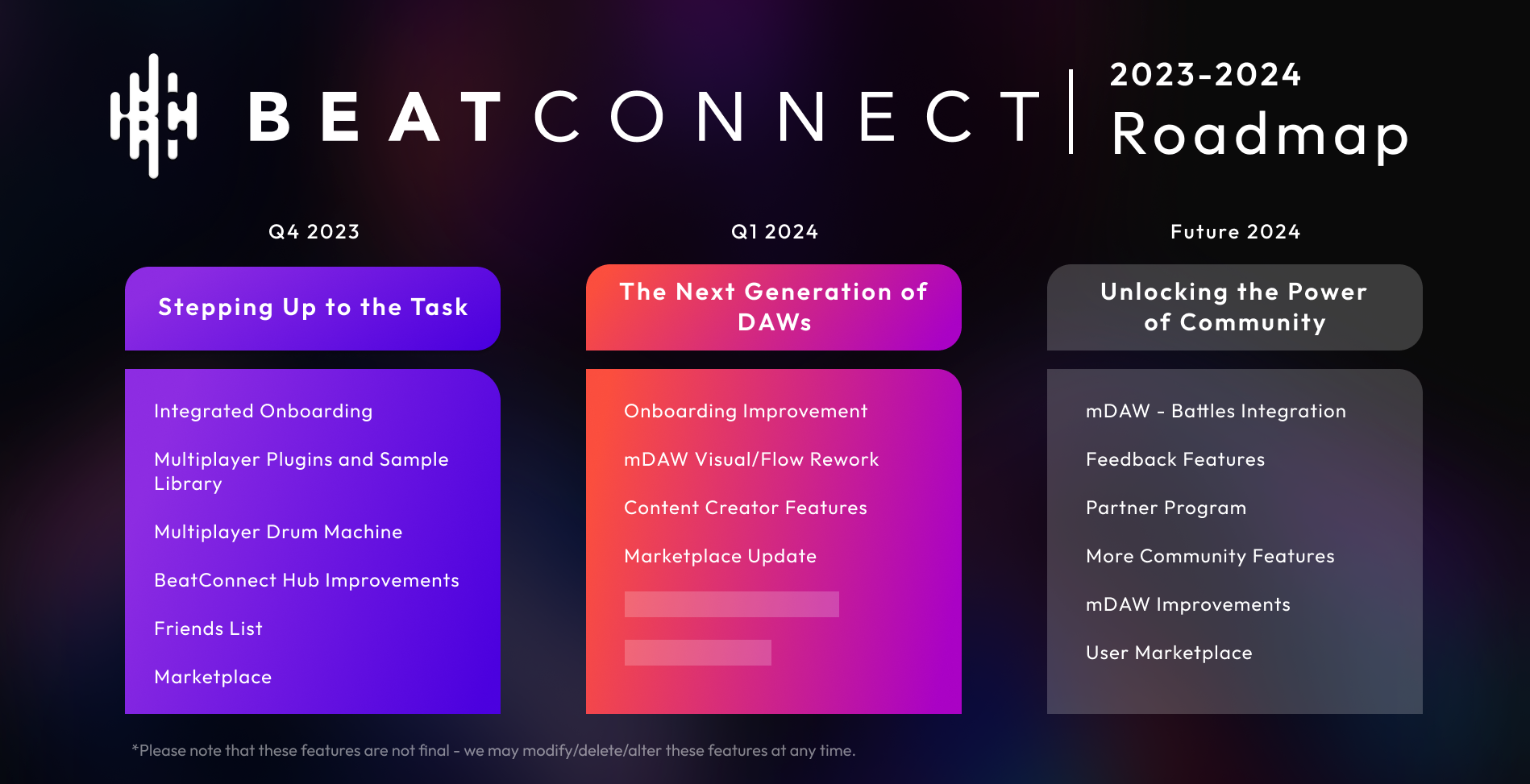 Stepping up to the task -⁠ Q4 2023
Our goal for the remaining months of the year is to provide you with everything you need to create music as soon as you open BeatConnect. Whether you need plugins, a drum machine, synths, samples, or anything else, we have you covered. The BeatConnect team is also creating a comprehensive onboarding process that will take you through our systems and have you creating music right away!

Integrated Onboarding: We want to make it easier for new users to get started with BeatConnect and learn how to use our unique creation tools.

⁠Keep an eye out for new and updated tutorials in the coming weeks!
Free Multiplayer Plugins and Sample Library:

A subtractive synth with 4 oscillators and a multi-fx module
Reverb, EQ, Delay, Chorus, phase and more. Everything you need for bread and butter sound design.
Shareable presets for an unlimited selection of sounds! The larger the community gets, the more sounds will be available.
Multiplayer Drum Machine: Our Multiplayer Drum Machine will let you create and edit drum patterns with your collaborators in real-time with BeatConnect. You will be able to choose from different drum kits, adjust the tempo and swing, and record your own beats.
BeatConnect Hub Improvements: Our vision for the BeatConnect Hub is ever growing and with that we see it as the central location for communitication, meeting collaborators and getting your project from a drawing board to the recording phase. We aim to start these improvements with our Friends List feature.
Marketplace 1.0: Big announcements on our Marketplace in October. Keep an eye out in the coming weeks!
The Next Generation of DAWs - Q1 2024
BeatConnect will be introducing the next generation of DAWs! Our Multiplayer DAW flow and design will be rethought from the ground up. To deliver the best experience possible to our users, we are reworking the Multiplayer DAW with solo, partner and community collabs in mind.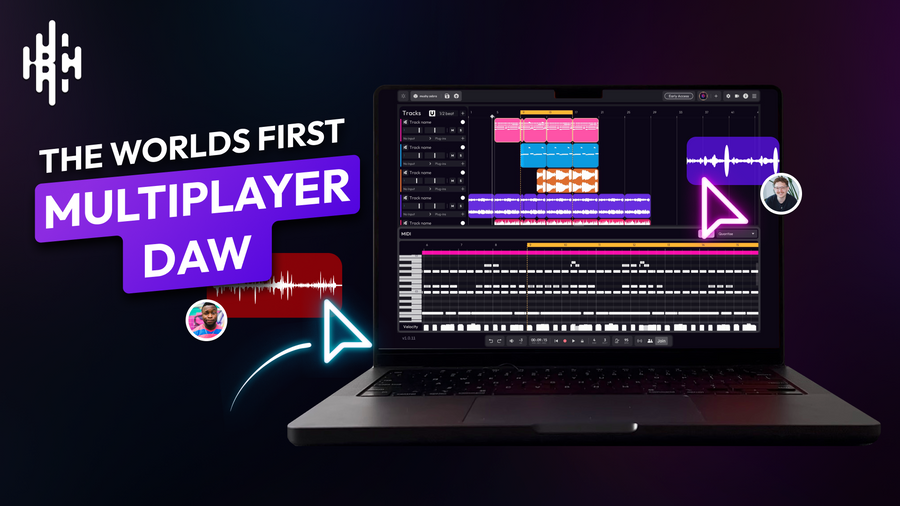 Onboarding Improvement: Your feedback will help shape our Onboarding system, making it more engaging, interactive, and personalized.
mDAW Visual/Flow Rework: We are also planning to redesign our mDAW (Multiplayer digital audio workstation), which is the core of BeatConnect. We want to make it more user-friendly, intuitive, and visually appealing.

⁠Improvements to the layout, navigation, workflow, and performance of the mDAW, making it easier for you to create, edit, and mix your music.
Content Creator Features: We are looking to empower content creators within the community. Stream support, better viewing experiences and more ways to engage your community.

Marketplace Update: We are also updating our marketplace, a one stop shop where you can buy and sell plugins, presets and more! You will be able to browse and buy content from our official partners and verified sellers.
Unlocking the Power of Community - Future 2024
The future of BeatConnect lies in the hands of the community. Look forward to public communities, activities such as educational camps, auditions, in-app battles, and incredible integrations with Twitch and Discord.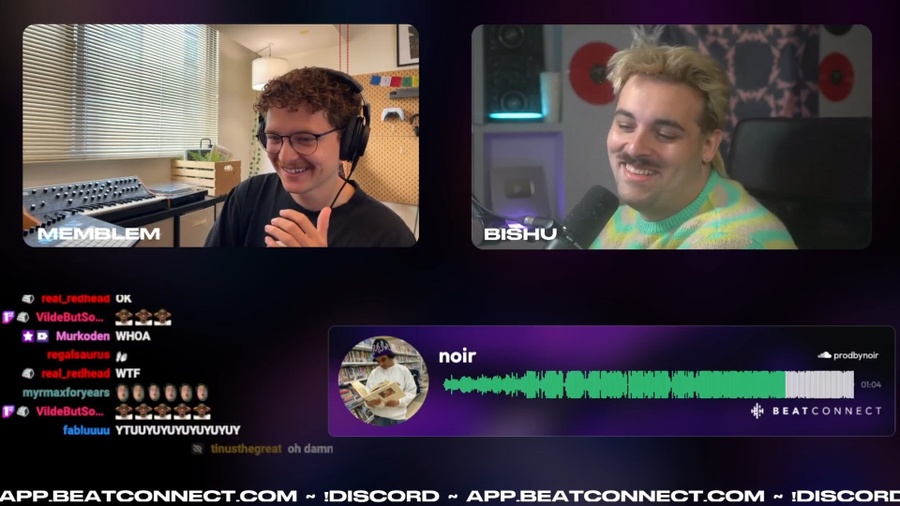 mDAW - Battles integration: One of the most exciting features that we are working on for the future is the integration of our mDAW with Battles.
Feedback Features: Feedback is a huge part of music creation. We are working on tools to improve feedback and receive feedback from your community members.
Partner Program: Moving into 2024 we are going to look at our Partner Program. You will be able to become a BeatConnect Partner, opening up access to early features, direct contact with the BeatConnect team and possible partnerships around sounds, plugins and more!
More Community Features: We are also working on adding more features that will enhance the community aspect of BeatConnect. You will be able to join or create studios based on your interests, genres, skills, etc. Community is at the heart of BeatConnect and we are going to bring these systems to 2.0 in 2024.
mDAW Improvements: More to come!
We'll have more information to share on our community updates in the new year!
BeatConnect has come incredible far since launching into Early Access this year! Proud of everything the team and community has been able to accomplish and I can't wait to see what's in store for 2024. We are working hard to make BeatConnect the best platform for music production and collaboration. We appreciate your support and feedback. Stay tuned for more updates and announcements.
Thank you for being part of BeatConnect!
⁠
These changes would not be possible without community feedback! Head over to our Feedback Form and let us know what you think!
Join our Official Community Discord.

⁠*Please note that these features are not final - we may modify/delete/alter these features at any time.