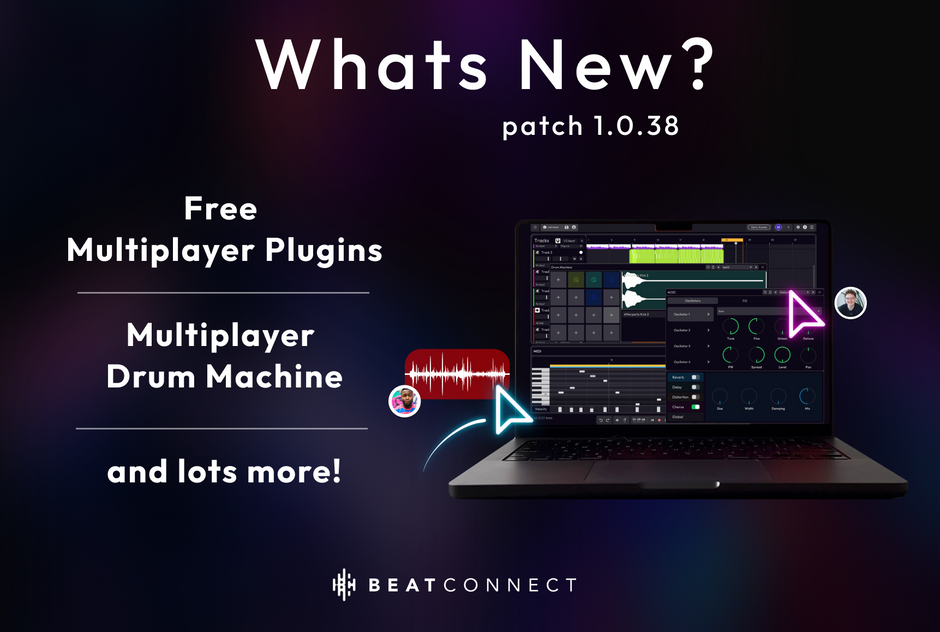 Patch 1.0.38 - Drum Machine, Presets, Free Plugins and More!
November 8th, 2023
We've done it!
Multiplayer Plugins, Drum Machine, Presets and more are now live! With every release, BeatConnect gets closer to the experience of making music in a live studio.
These changes would not be possible without community feedback! Head over to our Feedback Form and let us know what you think!
⁠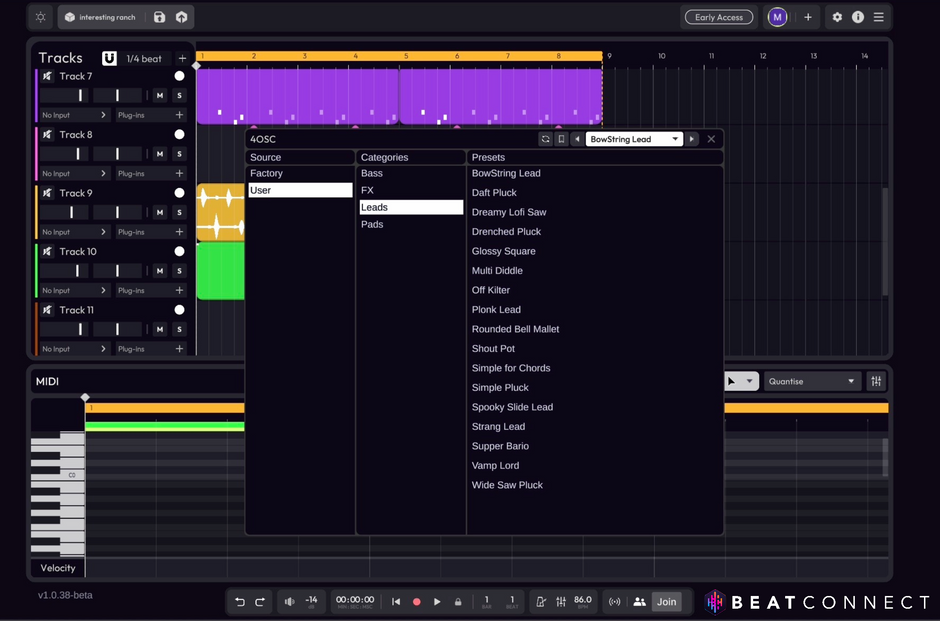 Highlights
Integrated Onboarding and Tutorials

Start with a demo project to learn the ins and outs of making music in BeatConnect

Specific, easy to access tutorials now available online

Complete Set of Multiplayer Plugins

Synth, Reverb, Delay, EQ, Compressor, Chorus, Phaser, Filter, Pitch Shifter, BitCrusher

Each plugin comes with a factory bank of presets, with more coming soon

Created your own user presets and share with your collaborators

A Multiplayer Drum Machine with Step Sequencer

Repeatable patterns, velocity, probability, swing, triplet support, filters, and customizable drum pads with icon and colour support

Music Making Enhancements

Playback markers to restart from last play

Midi note preview options to hear the note while moving the note

Preclick recording options

Updated timeline visuals for easier clip and note placement

Add specialised, ready-to-go tracks for synth, drum, and audio needs

Ability to drag and drop midi files into the timeline

Bug Fixes
Fixed crash related to having no input device on machine
Fixed crash when loading 32 bit samples
Added additional protection for dll not found exceptions (new error screen)
Added ability to get logs directly, simplifying the support process
Prevented multiple instruments on same track causing issues
Blacklisted certain known unstable plugins (Sorry Synth1 users)
Various smaller tweaks, fixes, and optimizations throughout the application
Better handling for closed state from splash screen on mac.

Known Issues
Performance issues when there are lots of midi notes
Miscellaneous Improvements
When DLL is missing, BeatConnect will automatically trigger re-install mDAW from the login splash screen
Added ability to open BeatConnect AppData from splash screen
Added What's New? modal on application startup
Displays more version information on splash screen and in app help modal
Removed BeatConnect Public Studio
---
BeatConnect Team