The music industry has witnessed a major change in the past few years. With the rise of new beat-making technology, musicians have been turning away from traditional recording studios and using browser-based platforms to bring their music to life. By using an online music maker, artists can now create unique sounds and basslines from the comfort of their homes. Learn why online music makers are the future of beat-making and how they can help you kick-start your musical career.
The Rise of the Online Music Maker
There are many reasons why artists have been increasingly turning to online music makers. Here are the main ones.
Accessibility
Traditional recording studios used to be essential to beat-making. Artists would pay astronomical fees to record their music with the help of sound engineers and state-of-the-art recording equipment. While some artists may still prefer to record their music in traditional studios, there are now plenty of new ways to make beats without breaking the bank. Free music makers such as BeatConnect are shattering the entry barrier to the music industry by allowing aspiring musicians to turn their ideas into sounds with just a few clicks. This marks the beginning of a new era for musicians, where beat-making is more accessible than ever.
Convenience
On top of the financial advantages of free online beat-makers, these platforms are also extremely convenient for beat-makers. Gone are the days of difficult logistics to ensure everyone makes it to the studio. By using a beat maker online, collaborators can just tune in remotely and work on a tune from wherever they want, whenever they want. Online music makers also offer a wide range of features that allow creators of all backgrounds to bring their craziest ideas to life. By accessing extensive sound libraries, beat-makers can create the most unique basslines. 
Artistic Freedom
The convenience offered by online music makers also comes with a great amount of artistic freedom. By not having to be physically in the same studio as their collaborators, artists can expand their musical horizons and work with fellow beat-makers worldwide. With the advent of social media, it is now easier than ever to meet interesting people online and find new musical partners. The artistic possibilities are endless! All you need is a good internet connection, solid collaboration workflows, and the curiosity to explore your free music maker of choice to ensure you use it to its full potential.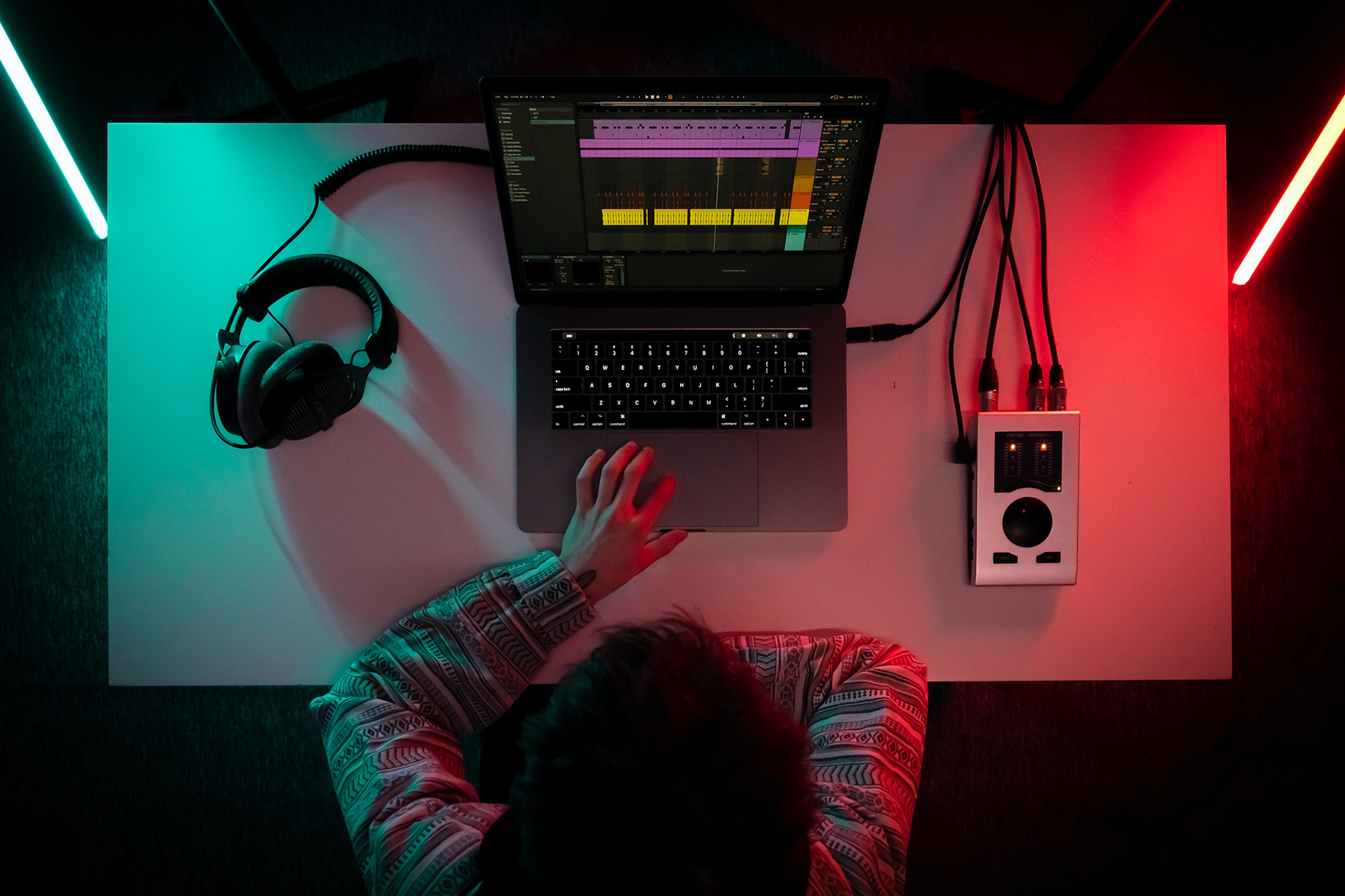 6 Features You Need to Create Amazing Basslines With an Online Music Maker
Are you ready to start an exciting journey into the world of free online beat-makers? Make sure to look for the following features to create the most rich and diverse basslines.
1. A Vast Sound Library
If you want to create unique basslines, choose a beat-maker online that offers various instruments. From classic electric bass to funky synth sounds, the goal is to have the most options available to help you find the right tone for your sound.
2. MIDI Compatibility
When choosing an online music maker, MIDI compatibility is a must. MIDI stands for Musical Instrument Digital Interface; a technical standard allowing electronic instruments and hardware to communicate. MIDI technology is essential to beat-making since it allows producers to control virtual instruments, record data, and adjust parameters such as pitch, volume, and modulation.
3. Multi-Layer Editing 
Choose an online music maker that allows you to work with multiple layers when creating your bassline. You can edit and mix multiple basslines simultaneously while experimenting with different rhythms, patterns, and harmonies. This feature is a game-changer in terms of creative freedom.
4. Real-Time Recording 
Some online music makers don't allow you to record your basslines in real-time. While virtual instruments and sounds can work for some artists, others might prefer to play their tracks in real-time. If this is also a priority for you, choose an online platform that allows you to record instruments in real-time.
5. Adjustable Filters
Check if your online music maker allows you to adjust the envelopes and filters of your basslines. You should control elements like the attack, the sustain and the decay of your bassline. This feature will also help you achieve your artistic vision by crafting unique bass sounds.
6. User-Friendly Interface
When you compare different free online music makers, make sure to choose one that has a user-friendly interface, especially if you are a beginner. It can be incredibly frustrating not to understand the platform you are working with. Not being able to achieve your desired sounds can also lead to discouragement. To avoid setbacks and help you kick-start your beat-making career, choose a platform that is easy to use. You can check consumer reviews to choose the best platform for your needs.
Case Study: San Holo, the Bassline Master
Sander van Dijck, also known as San Holo, is a Dutch music producer. He became widely famous with his remix of Dr. Dre's The Next Episode, which gathered more than 265 million views on YouTube. 
San Holo is known for his unique sound design. He is one of the founders of the Future Bass genre, a dubstep type with softer basslines and more melodic tones. The artist often uses a real bass guitar to record his tunes, which he then adjusts on Ableton or on Logic Pro. He particularly likes to saturate his bass sound to create the powerful effect his fans enjoy.
Working with an online music maker allows San Holo to fully explore his creativity and obtain unique results by exploring these platforms' wide spectrum of technical possibilities.
The Future of Online Music Making
From amateur beat-makers to professional producers, online music makers have definitely changed the music industry for the better. As technology keeps evolving, such platforms' benefits will improve. We can expect the following trends to develop in the upcoming years : 
Virtual Reality Integration - allowing artists to intuitively edit their basslines in a three-dimensional virtual space.

Cloud connectivity - offering musicians new and improved ways to collaborate remotely.

Mobile optimization - allowing beat-makers to create basslines on the go in high-quality and user-friendly mobile interfaces.

Enhanced MIDI compatibility - controlling a wider range of instruments and creating customized basslines.

Online music makers offer unprecedented accessibility, convenience and artistic freedom to music producers worldwide. With features such as adjustable filters, MIDI compatibility and a vast library of sounds, beat-makers can create unique basslines to fit their genre and music style. With trends like virtual reality integration, mobile optimization and enhanced cloud connectivity, more and more artists are bound to use a music maker online to produce their beats. If you are still searching for the best free online beat maker to make music, try out BeatConnect and sign up for your first Beat Battle!